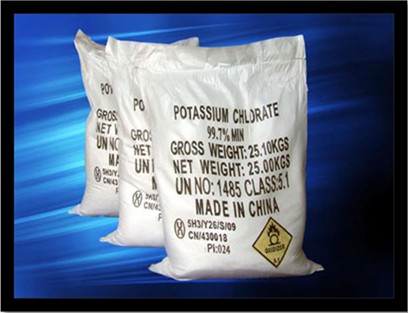 Founded in 1994, TELOON CHEMICALS INTERNATIONAL CO.,LTD. is a professional exporter and producer in , became ISO9001 (2008) Approved Enterprise and the quality is assured by SGS United Kingdom Ltd
Potassium Chlorate is a powerful oxidizing agent. It is used to manufacture explosives&fireworks and safety matches because of its ability to produce oxygen. Chlorate is a powerful ingredient of bleaching powder used in paper and pulp processing and calico printing. It is used also a weed killer and defoliant, used for chemical reagent, water purification, metallurgy,etc.
Based on advanced technology and equipments, efficient management and first-class technicians, we supply quality products and also best service.The production capacity of potassium chlorate is 10000 mt per year, and 8000 mt per year of potassium perchlorate.
Please click "DETAILS" for product specification, Thanks.