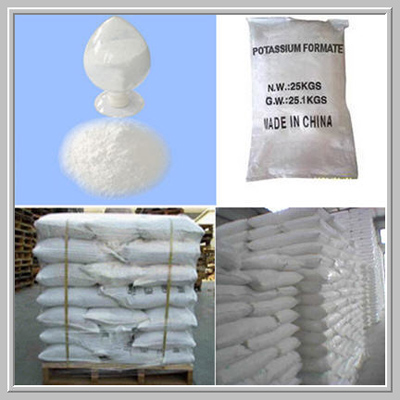 Founded in 1994, TELOON CHEMICALS INTERNATIONAL CO.,LTD. is a professional exporter and producer in , became ISO9001 (2008) Approved Enterprise and the quality is assured by SGS United Kingdom Ltd.
Potassium formate is the potassium salt of formic acid. It is an intermediate in the formate potash process for the production of potassium. It is white crystalline flake, strong moisture-absorbing performance, reducing, density 1.9100g/cm, easily soluble in water, non-toxic and non-corrosive.
Potassium formate has the tendency to exchange its potassium ions with clays and shales in order to slow down their reactivity and give to improved hole stability. Before the addition of potassium formate, starches and polymers should be pre-hydrated. HCCOK provides temperature and biostability at high concentrations to polymers and starches.
Potassium formate is utilized in heat transfer, oil drilling industry and de-icing.The water solutions
Please click the "DETAILS" for our product specification and more information. Thanks.